District survey report will be prepared to ensure legal mining-Preeti Yadav
Bahadurjeet Singh/Rupnagar
A district survey report would be prepared to eradicate illegal mining in Rupnagar district and ensure legal minning,said Rupnagar Deputy Commissioner Dr. Preeti Yadav during a high level meeting held here on Thursday.
Presiding over the meeting, the Deputy Commissioner said that illegal mining in Rupnagar district would not be tolerated at any level and if any illegal act was found, strict action would be taken against it.
She said that the SDOs of the mining department would inform the  forest, agriculture ,panchayat and police departments  regarding de-silting and mining sites for demarcation at the sub-divisional level. She said that the committees to be headed by respective SDMs,would be constituted at the sub-divisional level digital maps of the legal mining site would be drawnn the report submitted by these committees..
Dr. Preeti Yadav said that mining should be done within the stipulated time of the mining process and similarly such things should be taken care of for de-silting .
He said that it was the responsibility of the SDOs of this mining department to ensure that the concerned SDMs and DSPs are provided information on legal mining sites so that they know where legal mining is taking place. He said that with this process illegal mining could be stopped easily.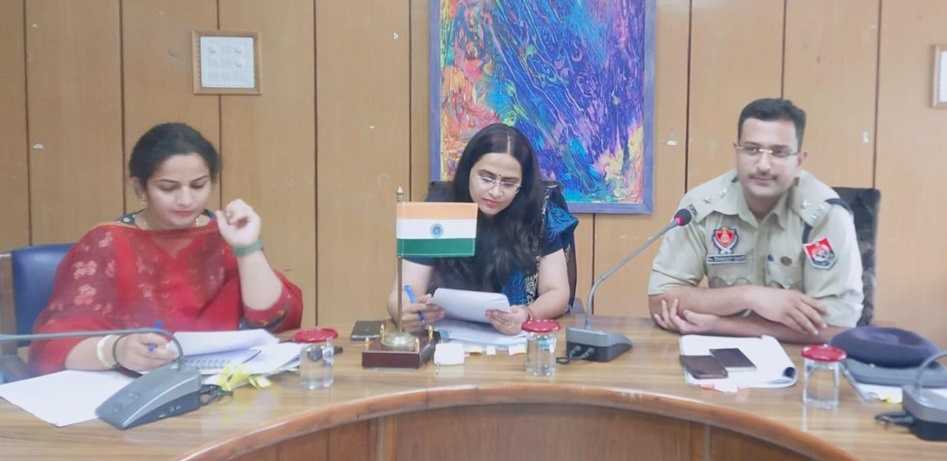 SSP Dr. Sandeep Kumar Garg directed the DSPs to personally visit the mining and de-silting sites and check them. He said that it was imperative for all the departments to work together to eradicate illegal mining.
DFO Naresh Mahajan assured the Deputy Commissioner that mining would not be allowed on the land of the Forest Department under any circumstances.
Environmental Engineer of Punjab Pollution Control Board  A.K. Sharma said that the legal source of raw material used by the stone crushers should also be checked and the production capacity of the stone crushers should also be monitored.
District survey report will be prepared to ensure legal mining.-Preeti Yadav. In this meeting, ADC Deepshikha Sharma, ADC(D) Dinesh Kumar Vishisht, SDM Morinda Ravinderpal Singh, SDM Gurwinder Singh Johal, SDM Shri Chamkaur Sahib Paramjit Singh, SDM Shri Anandpur Sahib Keshav Goel, SP Harbir Singh Atwal, DRO Garjinder Singh, Chief Agriculture Officer Manjit Singh, XEN Mining Sartaj Singh Randhawa, SDO Mining Rupnagar Barjinder Singh, SDO Mining Shri Anandpur Sahib Satwinder Singh Kang, SDO Mining Nangal, Nabpreet Singh, D.D.P.O. Amarinder Singh Chouhan, Deputy SP Ajay Singh, DSP Gurdev Singh, DSP Ravinder Pal Singh, SHO Nangal Danishveer Singh and other senior officers were present.
April 7,2022