Haryana government providing online services with least intervention of human participation
Kanwar Inder Singh/ royalpatiala.in
Haryana Chief Minister,  Manohar Lal's aim of providing online services that have made a visible impact on the system has now been realised on the Internet Day with the least intervention of human participation.
As part of the 75th Amrit Mahotsava programmes of independence, on Thursday, Chief Minister,  Manohar Lal, through video conferencing, presented four schemes related to Parivar Pehchan Patra namely, Mukhya Mantri Antyodaya Parivar Utthan Yojana, Old Age Samman Allowance Scheme, Ayushman Bharat-Jan-Arogya Scheme and Ration card under public distribution system. Caste Certificates were distributed to the beneficiaries and the entire district administration of Haryana was associated with this programme.
Haryana government providing online services with least intervention of human participation.  On this day benefit letters were distributed to 25 beneficiaries each in every district.
47 youth got jobs in private sector as a result of Antyodaya Parivar Rozgar Melas
In order to make families self-reliant having an annual income of less than Rs. 1 Lakh, 570 melas were organized at 156 places with the aim of increasing the income of such families by offering employment under Mukhyamantri Antyodaya Parivar Utthan Yojana. Through this 81,931 identified families were surveyed.
In this, applications of 52,961 families have been approved in principle under various schemes of 18 Departments. Out of these, the applications of 49,948 families are related to some loan schemes which have been further sent to the respective banks for action.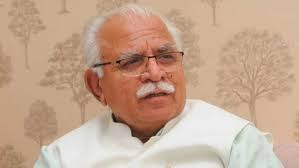 Private Job opportunities are being provided to 1213 youth in these fairs. 381 youth have been shortlisted by private companies, out of which 47 youth have joined the jobs provided to them.
Parivar Pehchan Patra (PPP) a unique document of globally verified identity after Aadhar card
The Chief Minister said that now every person will be able to get the benefits of government schemes sitting at home through the Parivar Pehchan Patra. The main objective of the government was to change the system of governance, which has started today. People would not have to roam around to seek their entitlement rather they will be given the benefits of the schemes sitting at home. The Chief Minister said that now the government will provide benefits to the needy at their door steps.
After data verification of PPP, more than 4 lakh persons will get benefit, out of which about 3 lakh beneficiary families under Ayushman Bharat Jan Arogya Yojana, 11,157 under Antyodaya Rozgar Mela, 23,000 under Old Age Samman Allowance scheme, benefits of ration card to 33,000 families under public distribution system are included.
April 8,2022