First centralised DST-FIST research lab established in  Khalsa College  Anandpur Sahib
Bahadurjeet Singh /Anandpur Sahib
The Sri Guru Teg Bahadur Khalsa  College, Anandpur Sahib has established first full-fledged centralised  lab having instrument used in various research activities with Department of Science and Technology- Fund for Improvement of Science and Technology Infrastructure (DST-FIST) grant.
The  DST-FIST lab was formally inaugurated by world renowned scientist and academician Prof. SK Mehta, Vice chancellor, University of Ladakh, Leh.
On this occasion Dr. Neena Mehta, Dean Academic Affairs, Rayat Bahra university Kharar, vice Principal Dr. Manderjeet Kaur Kang and other staff members were also present.
Mehta appreciated and congratulated the efforts of the principal Dr. Jasvir Singh and science faculty for establishing the research lab. This would benefit the college students as well as society also because this sophisticated lab is unique in this area, which helps to promote research aptitude among the students of our and other Institutes.
During his visit in the Lab Dr. Sartaj Singh, Assistant Professor explained all the sophisticated instruments and their applications and utility. For example the PCR machine installed is used in the detection of Pathogens that causes infectious diseases, also used in detection of cancer etc. with great accuracy. UV visible spectrophotometer is commonly used in all medical labs tests. The HPLC machine has large number of applications in Pharmaceutical, food industries.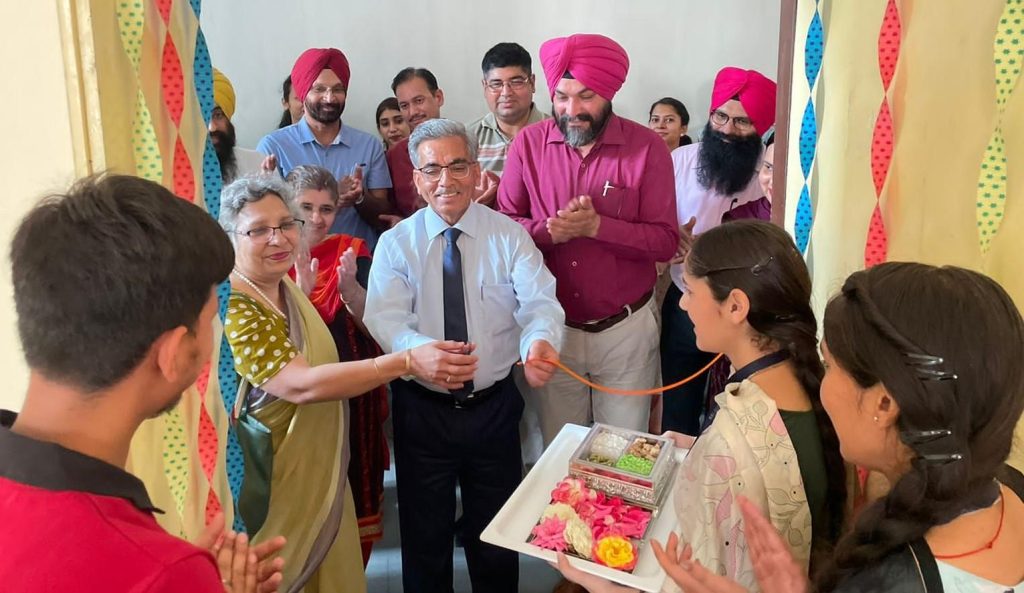 Further,  Chandan (Research Scholar) explained the Radon detector as an advanced instrument capable of analysing Radon gas in air, water soil samples. The Rad5 Scintillator instrument has capable of measuring radiations in home, offices and outside. These instruments are value addition in the study of radioactivity research in Punjab region as cancer related issues are increasing.
After inauguration, all the dignitaries visited Radon Geo Station (BRC collaboration) where Dr. Vimal Mehta, Assistant Professor explained the importance of Geo station as strategic location for earth quake measurement in this area.
After this there was a lecture on new education policy, 2020 by the Prof. SK Mehta (organised by IQAC of the College), where he explained the new concepts.
During discussion session the College Principal Dr. Jasvir Singh,said the college has already started to implement the provisions of new education policy 2020 and college is capable of implementing full fledge provisions of the policy for betterment of education structure. He  appreciated the visit of Vice Chancellor and for his valuable time and suggestions.
Further the principal said that the all the instruments and services are available to nearby colleges, schools for training purposes. While, research projects and summer training are also part of the scheme for under graduate  and  post graduate students in near future. Also the same services are rendered to individuals, nearby hospitals, Private and government. Laboratories and industries at nominal charges. The soil sample analysis facility is available to general public also. Further, the students after getting training on these various instruments can easily get jobs Worldwide or they can start their own start-ups.
May 4,2022